Overall
9/10
I officially need to drag my ass to wherever the hell their cidery is to meet the people behind their drinks. They are producing good simple cider that's not shit. Simple you motherfuckers. Simple is taking things that are meant to be in a drink form and building on it. Simple is not taking the ingredients you would put in a ham roast and making a goddamn drink out of it. I can't say if it's the combination of last nights frustration or the success of today but drinking this cider now makes me feel like one horny ass motherfucker just drowning in good cider.
Good cider comes out of Thornbury. Embrace that shit. If a girl pissed this cider I'd be into golden showers.
Packaging
Oh boy here we go. Superficial out of the way first. This can looks good. I like their designs. I covered that in my review of their other cider. The branding is consistent and pleasant. I love the cluttered chaos of the can while then it has a great layout. Again they are showing this has had the hands of a Master Cider Maker and superficially I know Cranberry and Apple go together… Of course you can also say that Mint, Basil and Apple go together but we know how that turned out.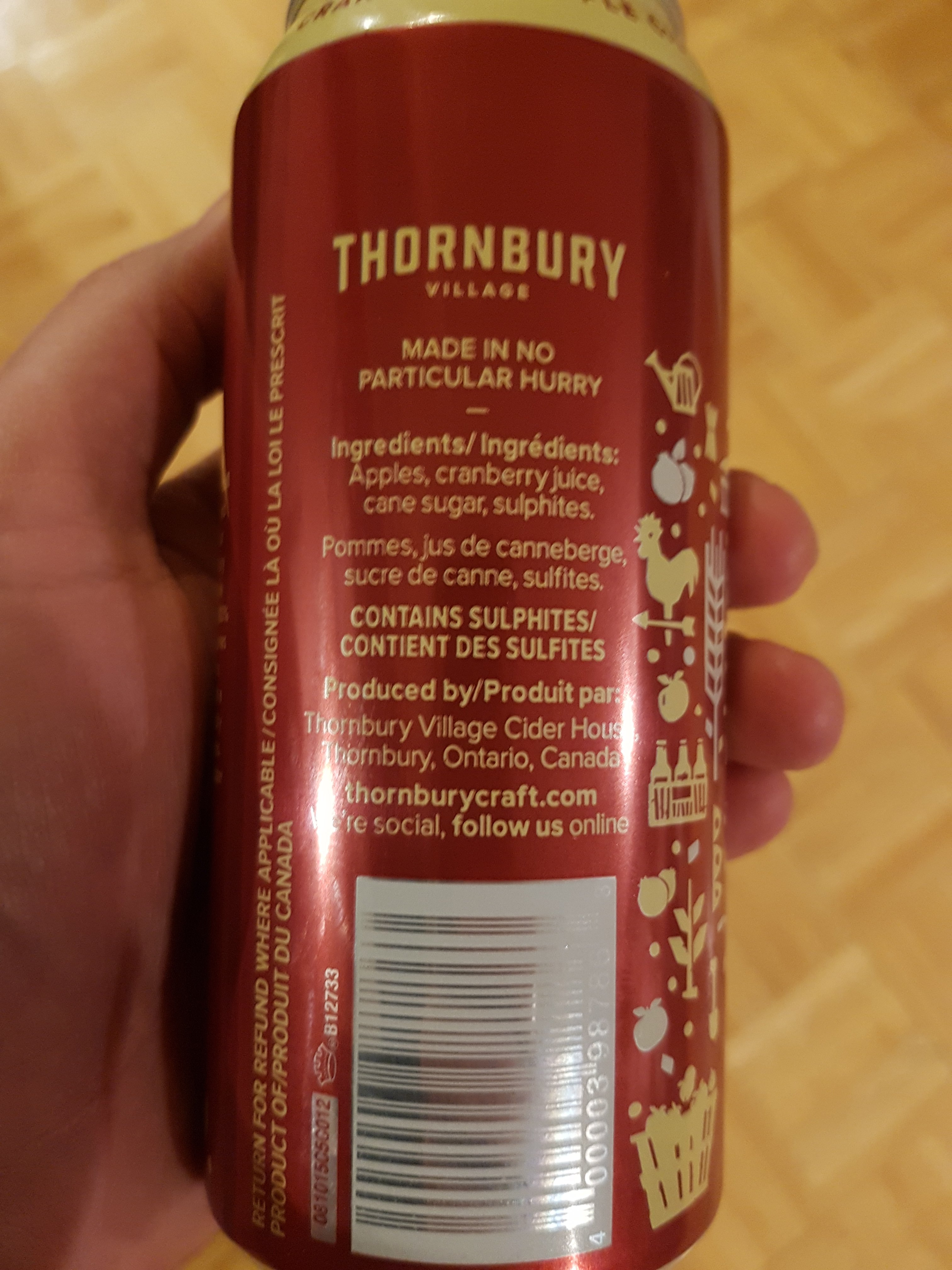 Ingredients
Apples, cranberry juice, cane sugar, sulphites
I gotta say I was hoping it was actually going to say "cranberries" in that they made the juice fresh. I actually hate cranberries. They're up there with grapefruit… That said…. Fuck me I'm going to do this aren't I?
Appearance
Now this is a pretty cider. Like being face to face with my favourite thing to drink it has a nice light flesh tone to it. The fizz is sustained with a slow dissipation to the point where now it looks almost like a glass of cranberry juice.
Aroma
Now this is a nice smell and again consistent with their other cider it's sitting about 3 feet away from my nose and I can smell it. As I pull it to my nose it's very similar to another cider I'm quite favourable on which is the Cherriosity by West Avenue. The cranberry definitely comes out in the smell and becomes the star of this drink.
Flavour
Bottoms up. Ooooh that's tart. These fuckers know exactly what they're doing. I should be drinking this in the fall with a nice thanksgiving spread. It's like an alcoholic cranberry beverage where the apple just provides a nice hint of sweetness and light and crispness. The carbonation is just there to provide the slightest bit of an edge to it and it isn't overpowered or underpowered in any way.